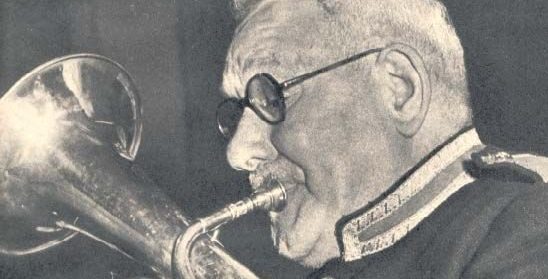 With all the talk about brass bands around the museum for the last few months our Volunteer Nicola has taken a few moments to write down her feelings about brass bands and the memories they evoke as a Miner's daughter:
For many people the sound of a brass band playing is very evocative bringing back memories of past times. The colliery bands in many ways embody the past in that they symbolise the collieries, now long closed, which they represent.
They also take us back to the Mining Galas and Demonstrations at which they marched. These demonstrations are also things of the past in most areas of the country, but you can still experience something of the occasion in Durham.
A few weeks ago I attended With Banners Held High, a small demonstration in Wakefield. The brass bands represented there this year were the Unite and RMT bands and a number of banners were carried, including the North Gawber Colliery banner.
The music played always takes me back, most often to the demonstration which took place after the incident in which my dad died. The banners on that occasion were draped in black and the music was sombre. And anyone who has watched the film Brassed Off will recollect the emotions conjured by the sound of the Grimethorpe Colliery Band playing Danny Boy.
This time however the music brought back a different memory, one with a lot more humour involved.
I can't remember the date but I do remember my dad saying to me, "Stay up a bit tonight and watch this new programme on the telly. You'll love it." I did! As the programme began the strains of The Liberty Bell by John Philip Sousa blared out and comedy as I knew it was changed forever by Monty Python's Flying Circus! This was the tune which echoed through Wakefield that Saturday in May and it made me smile.
I can't promise you The Liberty Bell, but if you would enjoy listening to some first class brass band music make a date to visit the museum on Saturday 25th June to listen and enjoy to our 'Bold as Brass' marching bands and entertainment competition.
If like Nicola you have experience or skills you'd like to share with the museum and its visitors come along to our next on-site Volunteer Open Day on Thursday 30 June, 10am-2pm, to meet some of the team, discover more about the Museum and ask any questions you have.
If you can't make it to an Open Day please register your interest by emailing us at volunteer@ncm.org.uk or giving us a call on 01924 848 806 and ask for Sally-Ann Burley or Imogen Walsh.