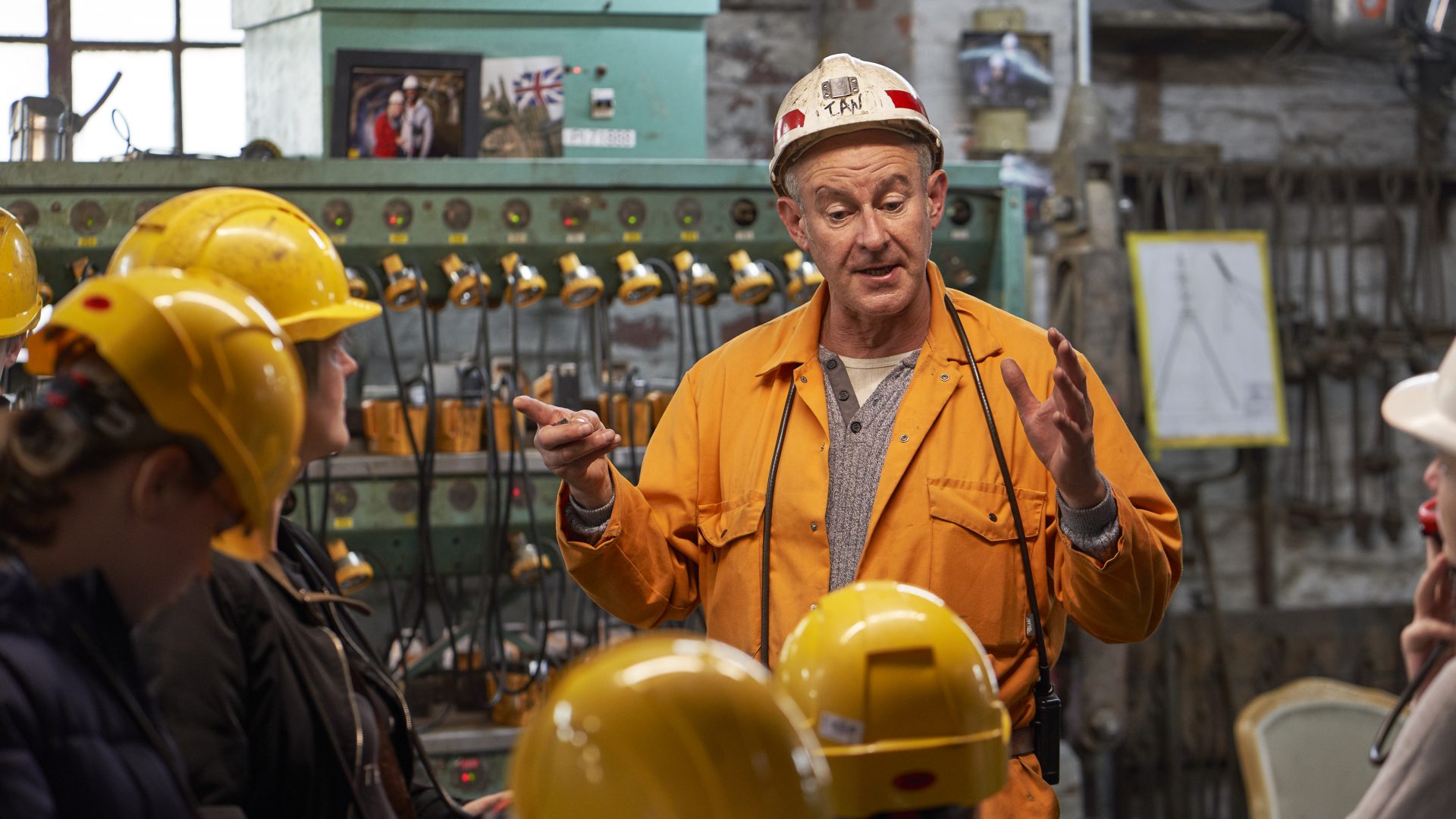 When can I go underground?
The Museum is open Wednesday – Sunday from 10am to 5pm
The first Underground Tour starts at 10:15am, with the last tour leaving at 3:30pm
Can I book in advance?
On weekends and school holidays, half of our Underground Tours are pre-bookable.
On term-time weekdays, you can pre-book the 11am and 2:30pm timeslots – the rest are available for arrivals on the day.
Can I book a tour on the day of my visit?
On weekends and school holidays, half of our tours are reserved for arrivals on the day. Please note that during school holidays we advise you to arrive early (we open at 10am) to book your places, as the underground tours are often all fully booked up by midday.
During term-time weekdays we reserve two pre-bookable timeslots (11am & 2:30pm), however you will still be able to book on arrival (dependent on demand and capacity) Wednesday-Sunday.
Is there an age limit?
Underground Tours are only suitable for children 5 and over.

Children under 5 are welcome to experience Santa Underground.
All children under fourteen years old must be accompanied by an adult.
How much does the tour cost?
If you take our well-loved underground tour, you will get a traditional miners 'check' and be asked for £5 as a deposit. After your tour, you can keep the check and donate the £5 to help us keep the mine running or you can ask for your £5 back.
What is the 'mine check' system?
In line with health and safety regulations, we are required to keep a register of visitors entering and leaving the underground areas of the Museum site. This is being done by using the traditional system of 'mine checks'.
If you take our well-loved underground tour, you will need to leave a £5 deposit for a traditional miner's brass check. After your tour, you can choose whether to keep your check as a souvenir and donate the £5 deposit, or request a refund.
Dig Deep and Donate! We would love for you to keep your check and donate. Your donations are vital to keeping the Museum running and making our underground tours as enjoyable and memorable as possible.
If you are a UK taxpayer, you can also gift aid your donation at no extra cost to yourself, and increase your check donation by £1.25. Find out more about Gift Aid and how it works here.
Is the underground tour accessible?
The Museum has wheelchairs on-site if needed and wheelchairs (non-electric) are able to go down the mine, however, it is a slightly shorter tour due to access.
If you require a wheelchair or have a wheelchair user in your party, please call our reception on 01924 848806 to notify us of the date and time you'll be visiting to arrange this.
How long does the tour take?
The tour lasts approximately 1 hour and 20 minutes.
What should I wear for the underground tour?
As this is a real coal mine, warm clothes (suitable for 12C) and sensible, flat shoes are recommended.
Like the coal miners who worked underground, for your health & safety, you will be asked to wear a safety helmet and carry a battery pack with a torch to light the way. Please note that the battery pack required on the tour weighs 2kg and must be worn by all participants.
The lights and batteries we use are certified for use underground.
Can I take photos underground?
Cameras are not allowed on the underground tour as battery-operated items are banned. Professional photographers can be accommodated out of hours but will be subjected to equipment testing and there may be an additional charge.

The miners were not allowed the following 'contraband' underground for health and safety reasons and visitors must also leave these safely locked in their cars or in the lamp room with the attendant:
Cigarettes
Lighters
Batteries
Electronically operated equipment