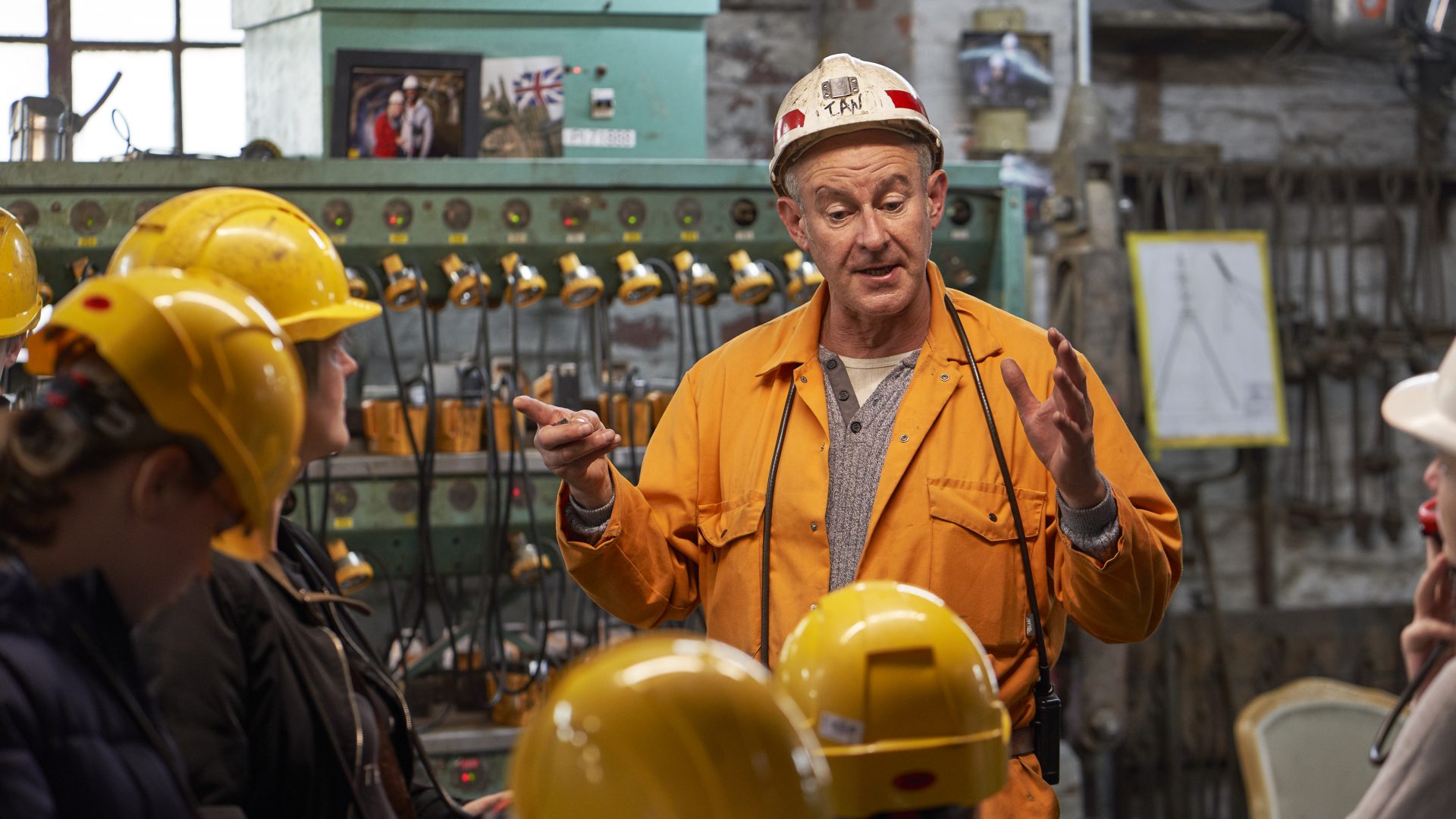 When can I go underground?
The Museum is open Wednesday – Sunday from 9:45am to 5pm in Summer and 9:45am to 4pm in Winter
The first Underground Tour starts at 10:00am, with the last tour leaving at 3:30pm (Summer) or 2:30pm (Winter)
Can I book in advance?
On weekends and school holidays, half of our Underground Tours are pre-bookable.
On term-time weekdays, you can pre-book the 11am and 2:00pm timeslots – there are additional slots available for arrivals on the day.
ALL visitors attending an Underground Tour need to report to Reception upon arrival to be issued with their timed Miner's Check (even if you have pre-booked online). Without this we cannot admit you underground.
Can I book a tour on the day of my visit?
On weekends and school holidays, half of our tours are reserved for arrivals on the day. Please note that during school holidays we advise you to arrive early (we open at 10am) to book your places, as the underground tours have limited availability.
During term-time weekdays we reserve two pre-bookable timeslots (11am & 2:30pm), however you will still be able to book on arrival (dependent on demand and capacity) Wednesday-Sunday.
Is there an age limit?
Underground Tours are only suitable for children 5 and over.

Children under 5 are welcome to experience Santa Underground and Hope Pit Explore.
All children under fourteen years old must be accompanied by an adult.
How much does the tour cost?
If you take our well-loved underground tour, you will get a traditional miners 'check' and be asked for £5 as a deposit. After your tour, you can keep the check and donate the £5 to help us keep the mine running or you can ask for your £5 back.
What is the 'mine check' system?
In line with health and safety regulations, we are required to keep a register of visitors entering and leaving the underground areas of the Museum site. This is being done by using the traditional system of 'mine checks'.
If you take our well-loved underground tour, you will need to leave a £5 deposit for a traditional miner's brass check. After your tour, you can choose whether to keep your check as a souvenir and donate the £5 deposit, or request a refund.
If you have pre-booked your tour online, you will still need to report to Reception to collect your 'mine check' as without this we cannot admit you underground.
Dig Deep and Donate! We would love for you to keep your check and donate. Your donations are vital to keeping the Museum running and making our underground tours as enjoyable and memorable as possible.
If you are a UK taxpayer, you can also gift aid your donation at no extra cost to yourself, and increase your check donation by £1.25. Find out more about Gift Aid and how it works here.
Is the underground tour accessible?
The Museum is located on original colliery sites and many of the original buildings have been retained to illustrate a working environment. In achieving a balance between authenticity and access, not all areas are easily accessed, particularly by wheelchair users. The museum runs regular SEN workshops and guide dogs and assistance dogs are welcome at the Museum, with a water bowl near the Café.
Staff will endeavour to provide tours tailored to the needs of visitors with disabilities; please contact the museum on 01924 848806 in advance of your visit to discuss any additional requirements.
Please note that all wheelchair users who book onto the Underground Tour will need to sign an evacuation disclaimer at Reception before participating. You can read and download this in advance here.
The full underground tour covers a distance of around 650m in total fully accompanied, with explanations and information from an experienced guide, who also has strict safety procedures to follow. Much of the time is spent travelling along the walkways, with very limited opportunity to sit and rest. As this is in an authentic mine, there are uneven floors, of varying widths, and also some low roofs that necessitate bending and stooped walking in places.
How long does the tour take?
The tour lasts approximately 1 hour and 20 minutes.
What should I wear for the underground tour?
As this is a real coal mine, warm clothes (suitable for 12℃) and sensible, flat shoes are recommended.
Like the coal miners who worked underground, for your health & safety, you will be asked to wear a safety helmet and carry a battery pack with a torch to light the way. Please note that the battery pack required on the tour weighs 2kg and must be worn by all participants.
The lights and batteries we use are certified for use underground.
Can I take photos underground?
Cameras are not allowed on the underground tour as battery-operated items are banned. Professional photographers can be accommodated out of hours but will be subjected to equipment testing and there may be an additional charge.
The miners were not allowed the following 'contraband' underground for health and safety reasons and visitors must also leave these safely locked in their cars or in the lamp room with the attendant:
Cigarettes
Lighters
Batteries
Electronically operated equipment