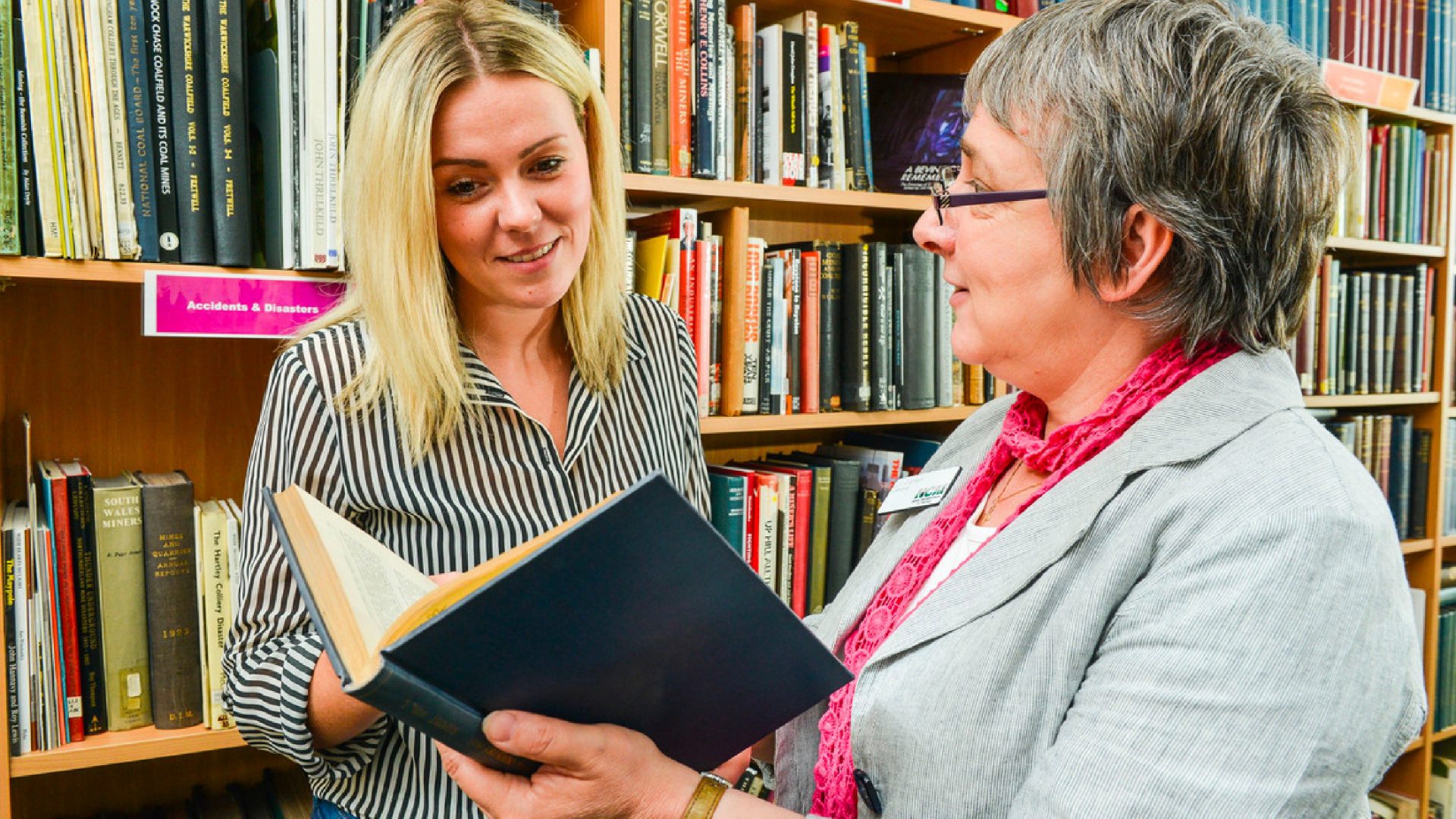 Are you looking for a research topic for a dissertation, PHD, policy review or analysis?  Are you interested in the coal industry and coal mining regions?
The Museum Library has many resources for academic research at all levels within the following key areas: History, Sociology, Politics, Economics, Social History, Business History and Business Management.
Students and researchers can visit or contact the library during our opening hours and investigate our resources remotely by looking on the Library Catalogue  or COPAC. However, we have many journals and ephemera which are not indexed or catalogued, so email the Library team a specific question about your topic and we may be able to unearth some uncatalogued treasures: library@ncm.org.uk
Below is list of some – but by no means all – possible research areas which the Library can support:
General Themes
Strikes throughout the nineteenth and twentieth centuries
Unions in mining
Women and mining
Media and mining
Regional Coalfields (History/Social Impact/Regeneration)
Portrayal of mining in fiction.
Fiction & Poetry – romanticising of an industry? Or telling it like it was?
Specific Themes
Health
Development of longer-term health care within the industry; that is, for chronic industrial diseases, rather than 'pure' safety.
Leaders of an industry
Life stories' of leaders and managers in the industry: where they came from, how they came to prominence; did this vary over time?
Organisational Management
Evolution of management in the coal industry as a distinct skill area separate from entrepreneurialism, influenced by traditional industry practices such as sub-contracting and the use of consultants. From the mid-nineteenth century, government intervention became increasingly important. The embedding of managerial expertise and responsibility at individual collieries – especially for safety – became statutorily required, and government intervened in managerial practice at numerous levels and in highly specific ways.

Transfer of managerial expertise from private colliery companies into the NCB; simply the old management in new form?
Training and People Management
The National Coal Board's attempts through training, architecture, work analysis and staff assessment, to develop a 'one size fits all' approach to productivity, operational practice and staff compensation in place of highly localised practices. What was the union response? Had there been anything similar attempted by private coal companies?
Marketing
The development of coal marketing: use of names and grades in selling coal, the increased trend to cleaned and processed coal, effect of coal analyses, market segmentation; distribution, and the influence of independent intermediaries in the coal trade.
Expectations of Nationalisation
To what extent did the NCB meet the prior expectations (or fears) of stakeholders in the mining industry: unions; individual miners; professionals; coal-owners; customers? Did the NCB articulate a clear position on whether nationalisation was intended to serve the country better, or to serve its employees better? If so, how did it stand up over time?
Utilisation of research in mining methods
Analysis of the various strands of research into improved mining methods and equipment; development of research organisations for mining techniques and uses for coal; the origin of governmental intervention in coal research, taking over from loose organisations of colliery companies and users, and the NCB's activities in this area; the trajectory over time of research subjects, including the increasing stress on pollution control.
Clean Coal
Carbon capture, clean coal technology etc – what prevented its implementation?