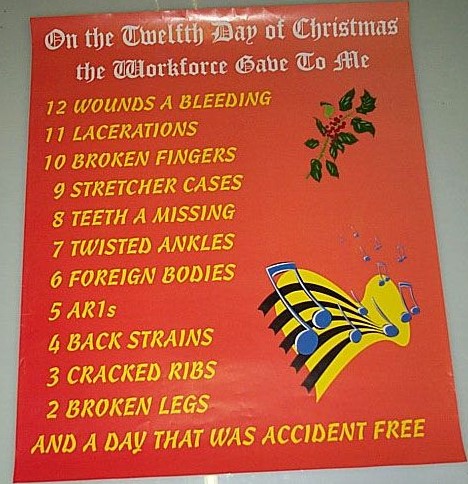 Voices in the Coalshed: Christmas safety
When a catchy song puts safety at the top of the Christmas list 
The festive season is a wonderful time of year but no matter the season, miners needed to be alert at all times. There was often a higher incidence of accidents in the run up to Christmas possibly because people were doing extra overtime to make money to provide for food and gifts. Some accidents could happen when tired or even just impatient for a shift to end.  In the run-up to Christmas, The National Coal Board ran safety campaigns using Christmas items and characters such as snowmen, presents, and crackers that reminded miners how to stay safe. One particular campaign focused on language or rather "song" to get the message across.
On the Twelfth Day of Christmas, the Workforce Gave to Me, was a Safety poster. Reworking the text turned a popular festive song into a safety warning. The poster reads 'on the twelfth day of Christmas the workforce gave to me, 12 wounds a bleeding, 11 lacerations, 10 broken fingers, 9 stretcher cases, 8 teeth a missing, 7 twisted ankles, 6 foreign bodies, 5 ARI's, 4 back strains, 3 cracked ribs, 2 broken legs and a day that was accident free. Try singing unfamiliar words to a familiar tune!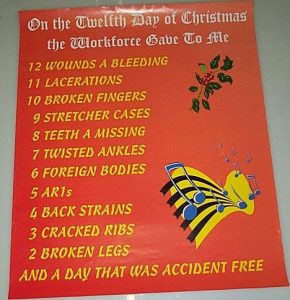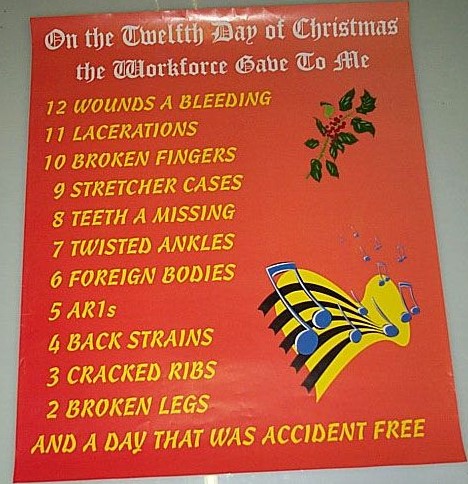 This poster campaign was the outcome of a three-day residential leadership course for the then deputy of Harworth Colliery, Phil Jackson, and safety officers Steve Shead and Chris Shorthose. They approached the task by using language to learn through laughter. Delivering a message with a little bit of humour.
Safety may be a serious topic, but how do you feel about including a bit of humour from time to time? Do you think this would have been a successful campaign?  Can you tell us of any other 'Christmassy' safety campaign from the past?
This weeks Voices in the Coalshed was researched and written by remote volunteer Tracey. If you would like to join Voices in the Coal Shed, please get in touch with voicesinthecoalshed@gmail.com